Is your computer's USB Port Electrical
Power too low to run your Magic Jack?
On the original packaging Magic Jack came in, there were warnings that some USB ports might not have enough
electrical power for your Magic Jack to work as designed. (Below is the advice which many people forget about.)
Remember: magicJack® works best when plugged directly into a USB port on
your computer. Do not plug into a multi port USB hub that is not AC powered.
In a few rare instances, your USB port on your computer may not have enough power.
In these instances, we recommend that you plug magicJack® into an AC powered USB hub that
is plugged into your computer. You may purchase a powered hub at any store that sells computers.
Testimonial on how to fix Magic Jack problems!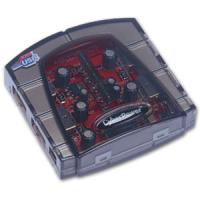 Cyberpower CPH420P USB 2.0
4 Port USB Hub and AC Adapter
(Click to see an enlarged photo!)
Magic Jack is not the rip off I thought it was...
"I went through a lot trying to get my Magic Jack to work. I spent hours on the computer chatting with reps from MJ to fix my terrible audio problems. Nothing worked for more than a day. I was all set to purchase more memory for my computer, thinking that could be my problem. I was in Wal-Mart, and browsing the computer section when I saw the USB hubs. The one I purchased was 40 times faster than USB 1.1. It's called Cyber Power USB 2.0 with a power adapter. It said it offered a significant increase in data transfer rate. Since the MJ reps kept asking me to try different USB's on my computer, I figured this could be my problem. I'm telling you the brand because I want you to know what worked for me. Any USB hub could work, but I'm certain about this one. The cost was $22 or $23 [UPDATE: Now under $20.00!]. I can't remember. As soon as it was plug in and installed... about 1 minute to accomplish, I went to the phone and tried it out. It was an absolute joy! The phone worked perfectly! I didn't get too excited, as I had had a good result that lasted less than a day on previous occasions."

"It's now been a little over a week, and my Magic Jack is still going strong. It seems the problems with MJ can be traced back to the computers that we are using. I hate to see MJ get a bum rap for problems that are actually a result of our older computers or bad USB ports. Believe me, I told the reps at MJ that I either had a lemon or the entire thing was a joke. I was so angry with these people, I told them I was just going to trash my Magic Jack and chalk it up to a terrible experience! I'm glad I didn't give up. I love my Magic Jack!"

How many USB devices are currently plugged in?
Power-Hungry Hubs (Quote from an unknown informed source)
A USB hub will expand the number of USB devices that you can plug into your computer, and these days, with cameras, scanners, printers, keyboards, pointing devices, PDAs, hard disks and many more peripherals using the USB interface, the number of devices you want to plug in often exceeds the number of USB ports on the computer. Some hubs have their own power adapters, but others run off the computer's power through the USB bus. This is more convenience since you don't have to plug in a separate electrical cord, but it's also easy to overload the USB port if you plug a lot of devices into one of these hubs.
Do your PC's USB ports supply enough electricity to power all the devices you have attached to them? Plugging too much gear into a bus-powered USB hub (one with no external power adapter) can overwhelm a USB port by demanding more than the 500 mA it can supply. Check the power demands on any USB port in Windows XP by right-clicking My Computer and choosing Properties, Hardware, Device Manager. Double-click Universal Serial Bus controllers, double-click the USB Root Hub entry, choose the Power tab, and add up the amounts in the "Power Required" column.
Annoyed by popup screen when your Magic Jack gets a call?
(Here are 2 FREE ways to Block Magic Jack screen popups!)



American Banner Exchange
Magic Jack info provided here is compiled by a FAN of the magicJack® USB Phone Jack.
It is NOT to be confused with the Official site for magicJack® or YMAX Communications.


|

|

|

|

|

|


Magic Jack Info | Magic Jack Pics | Magic Jack Video | Links | Cut My Bills | Sitemap
Magic Jack USB Phone Info Copyright © 2007-17 by CutMyBills.Org. All Rights Reserved.
This web site brought to you by Carolina Web Marketing. Hosting by Carolina Web Hosting.
NO content may be reproduced, altered or redistributed without our express written consent.