Links helpful to current and future Magic Jack users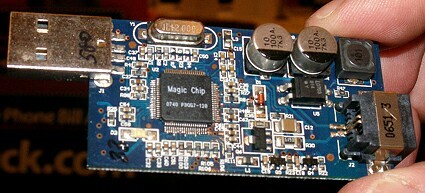 View of Magic Jack Magic Chip and circuit board with cover off.
Is your broadband connection ready for a Magic Jack right now?
Take the MySpeed VoIP Quality Test for your connection signal quality right now!
1. Click on link above. 2. Select VoIP test location nearest you. 3. Start test for jitter and packet loss.
4. Upload and Download speed tests follow automatically. 4. Click Test result#nnnnnn to view details!

Having computer audio problem(s) with a Magic Jack?
It could possibly be your computer has an issue with its audio codecs. To quote Marc Liron (Microsoft MVP): We *ALL* have problems with Video and Audio files from time to time...even Digital Media professionals like myself! One of the biggest causes of this type of problem is "CODECS". In a nutshell, CODEC is short for Compressor / Decompressor, but don't let that scare you. THIS page at UpdateXP.com contains a link where you can download SHERLOCK - The Codec Detective! This cool FREE program was designed for Windows XP, but will also work on Vista too. If you do need it, download it, install it, then run it. Hopefully, that program will help to get you all squared away and your Magic Jack will be working fine.
Want to improve your Magic Jack connection quality?
The original Magic Jack Trouble-shooting Guide - 555 Kb. PDF file
(Info is somewhat outdated now, but it may still be helpful to you.)
Be aware: Your Magic Jack USB extension cable might be defective!
(Many more troubleshooter tips can be found elsewhere on this site.)
Windows XP memory problem? Try installing FreeRAM XP Pro 1.52!
(This FREE program can help diagnose or Fix XP memory problems!)
Tired of Magic Jack screen popping up? Fix Magic Jack Popups Free!
Please link to our Magic Jack info at CutMyBills.org

Copy & paste below code to link to Magic Jack Info as seen above!
HTML code for linking with a Half-Banner (234x60)

Copy & paste below code to link with 234x60 ad (FAST 1.66 Kb!)
HTML code for linking with a Square Ad (125x125)

Copy & paste below code to link with 125x125 ad (Fast 966 bytes!)
HTML code for linking with our Button Ad (88x31)

Copy & paste below code to link with 88x31 ad (FAST 1.22 Kbytes!)
HTML code for linking to us with Badge Ad (80x15)

Copy & paste below code to link with 80x15 ad (FAST 382 bytes!)
HTML code for linking to us with a text link.
Make Unlimited FREE Phone Calls!
Copy & paste below code to link with a text link.
Just follow these four simple steps to insert any above link in your web page:

1. Open the web page you want to add link with an HTML editor or Notepad.

2. Highlight the HTML code in the box shown above (click Highlight button).

3. Copy (CTRL+C) & paste (CTRL+V) code into HTML of your Web page:

4. Save updated page and (if needed) upload the revised web page to server.

THANK YOU for linking to this site to help other folks find out about it too!








Above are 5 more Magic Jack images to link to this Magic Jack info!






Magic Jack info provided here is compiled by a FAN of the magicJack® USB Phone Jack.
It is NOT to be confused with the Official site for magicJack® or YMAX Communications.


|

|

|

|

|

|


Magic Jack Info | Magic Jack Pics | Magic Jack Video | Links | Cut My Bills | Sitemap
Magic Jack USB Phone Info Copyright © 2007-17 by CutMyBills.Org. All Rights Reserved.
This web site brought to you by Carolina Web Marketing. Hosting by Carolina Web Hosting.
NO content may be reproduced, altered or redistributed without our express written consent.